9 Architecture Marketing Keys for Growing Your Business
9 Architecture Marketing Ideas to Succeed in Your Business
In the competitive world of architecture, it's easy to wonder if a marketing strategy is really necessary to succeed. After all, isn't it enough to just design amazing buildings and let the work speak for itself? Well, not quite. In today's digital age, having a solid marketing strategy is essential for architecture firms to stand out from the crowd and attract clients.
So, you're an architect and you've probably spent countless hours on your designs, creating stunning buildings and structures that are not only functional but also works of art. But here's the thing – no matter how excellent your work is, if no one knows about it, it won't make much of a difference. That's where a well-defined marketing strategy comes in.
In this blog post, we'll discuss whether or not you really need a marketing strategy to succeed in the architecture business. So, grab a cup of coffee, and let's dive in!
Img.1- In today's living, marketing has become indispensable to all industries, and Architecture is no exception, Photo by Tranmautritam
So, if you're in the architecture industry and wondering if architecture marketing is worth your time and effort, keep reading to find out why it's a must-have tool for success!
Importance of marketing in architecture
In the architecture industry, effective marketing strategy plays a crucial role in attracting and retaining clients. One essential key strategy is to showcase a strong online presence through a well-designed, and easy-navigation website with active social media platforms. In other meaning, a comprehensive marketing strategy that combines online presence, content marketing, and networking can effectively promote an architecture firm and attract potential clients in this competitive industry.
So then, the importance of architecture marketing lies in its ability to promote the services presented by various architectural firms, make clients interested in what you have to offer, and establish a strong presence in the architecture industry. A well-crafted marketing strategy is essential for architects to help them differentiate themselves, showcase their expertise, and build lasting relationships with clients and partners.
Do we really need a Marketing Strategy in the Architecture Business?
Yes, in today's routine, having a marketing strategy is essential for success in any kind of business, and architecture is no exception. While architects may focus primarily on their design and technical skills, a well-defined marketing strategy helps promote their services, attract clients, and differentiate themselves from competitors. Here are a few reasons why a marketing strategy is crucial in the architecture industry:
1- Creating Awareness and Attracting Clients: A well-planned marketing organization helps architects reach their target audience and showcase their expertise and unique design approach. By effectively promoting their services, architects can attract potential clients and generate leads.
Marketing strategies, including digital marketing and social media, help architecture firms reach a wider audience and attract potential clients. By showcasing their work and expertise, architects can generate interest and inquiries.
2- Building Brand Awareness: A marketing strategy enables architects to establish and strengthen their brand in the industry. Consistent branding and messaging help create recognition and trust among potential clients, making architects a preferred choice when seeking architectural services. Marketing efforts contribute to building a strong brand identity for architecture firms.
3- Differentiating from Competitors: In a competitive market, architects need to differentiate themselves from other firms. A well-defined marketing strategy allows architects to highlight their unique value proposition, strengths, and areas of specialization, helping them stand out from the competition.
Architecture marketing enables firms to highlight their unique value proposition, expertise, and design approach. This differentiation helps potential clients understand why they should choose a particular firm over others in the market.
4- Showcasing Portfolio and Expertise: Marketing strategies should provide architects with a platform to showcase their past projects, expertise, and design philosophy. This allows potential clients to evaluate the architect's capabilities and determine if they align with their vision and requirements.
5- Networking and Relationship Building: Marketing planning encompasses networking activities, such as attending industry events and participating in professional associations. These activities help architects build relationships with other professionals, such as real estate agents and contractors, which can lead to referrals and collaborative opportunities.
6- Adapting to Changing Market Trends: Marketing strategies help architects stay informed about emerging trends, market changes, and client preferences. It also allows architects to stay updated about changes in the market. This enables them to adjust their marketing efforts accordingly and stay relevant in a dynamic and changing industry.
7- Lead Generation and Conversion: Effective marketing strategies generate leads and facilitate the conversion of potential clients into actual projects. This can be achieved through targeted campaigns, content marketing, and lead nurturing techniques.
Overall, architecture marketing is crucial for architects to create awareness, attract clients, establish a strong brand, and stay competitive in the industry. It helps firms differentiate themselves, generate leads, and build lasting relationships with clients and partners.
9 Marketing Strategies to Boost Your Architecture Business
In today's competitive world, architecture isn't just about designing beautiful buildings; it's also about effectively marketing your architectural services. Marketing plays a crucial role in the success of today's firms, including architects, helping them stand out in a crowded marketplace and clients' trust.
In this section, we will explore some key strategies on how to apply marketing in the architecture business:
1- Define Your Architectural Brand
Before diving into marketing tactics, it's essential to establish a strong architectural brand. Define your unique value proposition – what sets your firm apart from the competition? Is it your sustainable designs, innovative solutions, or a particular architectural style? Once you've pinpointed your brand identity, create a compelling story around it.
Img.2- It is important to define your brand name in Architecture, and set your competition apart, Photo by Mikael Blomkvist
Your portfolio is your visual resume. By creating a visually appealing portfolio of their previous projects, architects can demonstrate their expertise and unique design approach to potential clients. Showcase your best work on your website, emphasizing diverse projects to demonstrate your versatility. High-quality images and detailed descriptions are vital. Remember, potential clients want to see your past successes to envision what you can create for them.
3- Optimize Your Website for Search Engines (SEO)
To rank on Google and attract organic traffic, optimize your website for search engines. Use relevant keywords such as "architectural design," "urban planning," and "sustainable architecture" in your content. Regularly update your blog with informative articles about architecture trends, case studies, and industry news to improve your SEO.
4- Leverage Social Media
Engage with your audience on social media platforms like Instagram, Facebook, and LinkedIn. Share captivating images of your projects, client testimonials, and industry insights. Encourage followers to interact with your content by asking questions and conducting polls.
5- Networking and Partnerships
Forge strong relationships within the architectural community. Collaborate with other professionals such as interior designers, contractors, and real estate agents. Attend industry events, workshops, and conferences to expand your network.
6- Email Marketing
Build an email list of potential clients, industry contacts, and past clients. Send out regular newsletters with updates on your latest projects, architectural insights, and upcoming events. Personalize your emails to make recipients feel valued and engaged. Keep reading to learn more in the next section below.
Img.3- In today's technology, there are so many sorts of marketing tools each one with a different purpose than the other; Choose what is best for you and your firm, Photo -source: www.thepsychometricworld.com
7- Content Marketing
Create informative and engaging content that showcases your expertise. This could include blog posts, e-books, whitepapers, or video tours of your projects. Share this content on your website and social media channels to position yourself as an industry thought leader. Additionally, leveraging content marketing techniques can help educate and engage the target audience, positioning architects as thought leaders in the industry.
8- Online Reviews and Testimonials
Encourage satisfied clients to leave reviews on platforms like Google My Business, Yelp, and Houzz. Positive reviews build trust and credibility with potential clients. Respond promptly to both positive and negative reviews to show your commitment to client satisfaction.
9- Attend Local Events
Participate in local events, exhibitions, and trade shows related to architecture. These events provide an excellent opportunity to showcase your work, network with potential clients, and stay updated on industry trends. By attending industry events and participating in relevant associations, architects can establish credibility and expand their professional network.
Top Marketing Tools to Boost Your Business
In the ever-evolving landscape of marketing, having the right tools at your disposal is crucial for creating and executing effective strategies. Several powerful tools can simplify the process, enhance productivity, and improve results. From comprehensive analytics platforms like Google Analytics and HubSpot to social media management tools like Hootsuite and Buffer, these resources provide invaluable insights and automation capabilities.
Additionally, keyword research tools such as SEMrush and Ahrefs help you optimize your content for search engines, while email marketing platforms like Mailchimp and ConvertKit streamline communication with your audience.
By harnessing the potential of these marketing tools, you can fine-tune your strategies, track performance, and ultimately, achieve your marketing goals with precision and efficiency. Stay ahead of the competition and supercharge your marketing efforts by integrating these top tools into your toolkit.
Book Recommendation
If you've ever been captivated by the topic I discussed in this blog post, then you won't want to miss this book. It's a literary gem that delves even deeper into the subject, unraveling its mysteries and offering fresh insights that will leave you pondering long after you've turned the last page. Let the pages of this book transport you to a world of knowledge and discovery you won't want to miss out on.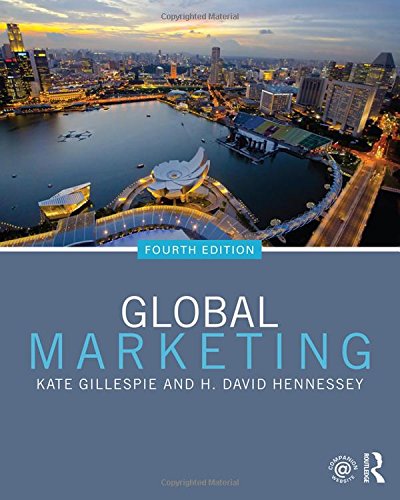 About the book
With its compelling narrative and expertly researched content, this book is a must-read for anyone eager to explore the fascinating world of Marketing. This book introduces students to the important concepts of global marketing today and their managerial implications.
Designed to be shorter than many other textbooks, "Global Marketing" focuses on getting to the point faster. Get ready to embark on an unforgettable journey with this remarkable read!
Buy it Today!
Last Thoughts...
Incorporating effective marketing strategies into your architectural practice is essential for growth and success. By defining your brand, optimizing your online presence, leveraging social media, and engaging with your audience, you can attract clients, build lasting relationships, and establish yourself as a trusted architect in your community.
Remember that marketing is an ongoing process. Continuously monitor and adapt your strategies to stay ahead in the dynamic world of architecture. With dedication and a strategic approach, your architectural firm can thrive in the digital age,... with confidence.