How To Build An Impressive DIY Treehouse For Your Kids!
Building A Treehouse For Kids
Every kid dreams of having a treehouse. And why wouldn't they? Treehouses are the perfect hideaway to read, play, or just imagine wonderful adventures. They are also a great way to get your kids outdoors and away from screens.
Fortunately, treehouses are not just for kids. Adults can also enjoy the benefits of spending time in a treehouse. If you're looking for a fun DIY project, why not build a treehouse for your kids (or for yourself)? In this article, we'll provide an informative guideline on how to build a treehouse that is both safe and impressive. We'll also provide some tips on how to make sure your treehouse can withstand the "Elements".
➤ Refer to the post here to learn more about the "Elements".
So, whether you're a beginner or an experienced builder, keep reading to learn everything you need to know about building a DIY treehouse!
Treehouses impress both kids and adults and spending more time in Mother Nature will be more enjoyable and profitable, Photo by Yan Krukau
First, Choosing The Perfect Tree For Your Treehouse
So you've decided to build a treehouse. Congratulations! This is sure to be a fun and rewarding project. But before you get started, there are a few things you need to take into consideration – including what kind of tree you will use.
Not all trees are created equal when it comes to treehouses. Some are better than others in terms of strength, stability, and height. In this section, we will give you some tips on how to choose the perfect tree for a treehouse. Keep reading to learn more!
When it comes to choosing the perfect tree for a treehouse, there are a few things you need to take into account. The most important thing is to make sure the tree is strong and stable enough to support the weight of the treehouse. You also need to consider the height and shape of the tree, as well as the surrounding area.
Here are a few tips to help you choose the perfect tree for your treehouse:
Look for a strong and healthy tree. The tree should be at least 8 feet tall and have a diameter of at least 2 feet, no matter what its kind.
Avoid trees with weak or dead branches.
Choose a tree that is already leaning slightly. This will make it easier to attach the treehouse.
Make sure there are no power lines or other obstacles near the tree.
If you're not sure which tree to choose, ask a professional treehouse builder for advice.
Benefits of Having a Treehouse
Certainly, there are many benefits of having a treehouse! Here are a few:
A Fun and Unique Play Space

: A treehouse can provide a fun and unique play space for children and adults alike. It's a place where imaginations can run wild, and adventures can be had. Whether it's a fort, a clubhouse, or a quiet space for reading or napping, a treehouse can be whatever you want it to be.
Connection with Nature

: Being in a treehouse provides a unique opportunity to connect with nature. You're up in the trees, surrounded by leaves and branches, and you can watch birds and squirrels go about their business. It's a great way to get outside and enjoy the natural world.
Learning Opportunity

: Building a treehouse can be a great learning opportunity, especially for children. It teaches them about design, construction, problem-solving, and safety. They'll also learn about the natural world and the importance of trees and other plants.
Increased Physical Activity

: Playing in a treehouse requires physical activity, which is important for children's development. Climbing up and down ladders or stairs, balancing on planks or ropes, and using their imagination all require physical effort. It's a great way to get kids moving and active.
Privacy and Independence

: Having a treehouse provides a sense of privacy and independence, especially for older children. It's a space that they can call their own and a place where they can hang out with friends or siblings. It's a safe and secure space where they can have fun and be themselves.
Escape from Technology

: In a world where we're constantly surrounded by screens and technology, a treehouse provides an escape from all of that. It's a place where kids (and adults) can disconnect and enjoy the simple pleasures of the natural world.
Overall, having a treehouse can provide many benefits, from a fun play space to a connection with nature and a learning opportunity. It's a great way to encourage physical activity, independence, and imagination, and it can be enjoyed by people of all ages.
Tips for Building an Impressive Treehouse
Here are some tips for building an impressive treehouse:
REVIEW THE LOCAL REGULATIONS: Ensure to check the local building codes before starting your DIY project.
CHOOSE THE RIGHT TREE: The first and most important step in constructing a treehouse is choosing the right tree. (Refer to the section above for more details) You'll want to choose a tree that is strong and healthy, with a sturdy trunk and branches that can support the weight of the treehouse and its occupants. It's also important to choose a tree that is not too young or too old, as a young tree may not be strong enough, while an old tree may be too brittle and prone to breaking.
PLAN THE DESIGN: Before you start building, it's important to plan out the design of your treehouse. Consider factors like the size and shape of the tree, the height of the treehouse, and how it will be accessed (via a ladder, stairs, or rope). You'll also want to think about the layout of the interior, including any furniture or fixtures you want to include. (See section below for Ideas on treehouse plans-layout)
USE HIGH-QUALITY MATERIALS: When building a treehouse, it's important to use high-quality, durable materials that can withstand the elements and the weight of the structure. You'll want to use materials like pressure-treated lumber, galvanized screws and nails, and high-quality roofing materials. It's also important to use materials that are appropriate for the climate and weather conditions in your area.
PAY ATTENTION TO SAFETY: Safety should be a top priority when building a treehouse. Make sure that the treehouse is securely anchored to the tree and that all structural components are properly designed and installed. You'll also want to ensure that the treehouse has appropriate safety features, like railings and sturdy flooring.
ADD FUN AND FUNCTIONAL FEATURES: To make your treehouse impressive, consider adding fun and functional features like a rope swing, a zip line, or a pulley system. You could also include things like a built-in bookshelf, a hammock, or a telescope for stargazing.
DECORATE AND PERSONALIZE: Once the treehouse is built, don't forget to decorate and personalize it! Add some paint or stain to the exterior, hang up some string lights or lanterns, and add some comfortable seating or cushions. You could also include some personalized touches like a flag or a nameplate.
Different Types and Ideas for Designing a DIY Treehouse!
Here are some plans and ideas for designing different types of treehouses:
Simple Platform

: A simple platform treehouse is a great option if you're just starting or have limited space. It consists of a basic platform with railings and a ladder or rope ladder for access. You can add a roof for shade or rain protection, but otherwise, it's a simple and functional design.
Simple platform treehouse, Photo from Pinterest
Multi-Level Treehouse

: A multi-level treehouse is a more complex design that can provide more space and versatility. It consists of multiple levels connected by ladders, stairs, or bridges, with different areas for play, relaxation, and storage. You could have a sleeping loft, a play area, and a reading nook, for example.
Cabin-Style Treehouse

: A cabin-style treehouse is a more substantial and permanent structure that can be used as a year-round retreat. It can include features like insulation, heating, and electricity, and can be designed to be weather-resistant. It can be used as a guesthouse, a studio, or a personal escape.
Cabin-style treehouse, Photo: Pinterest
Treehouse with Slides and Swings

: A treehouse with a slide is a fun and functional design that can provide hours of entertainment for kids. The treehouse can be designed with a slide that leads down to the ground, or you could add a spiral slide or a tube slide for extra fun. Similarly, a treehouse with swings is another fun design option that can add an element of excitement to the treehouse. You could add a rope swing, a tire swing, or a traditional swing set to the treehouse design.
Elevated Walkway

: A treehouse with an elevated walkway is a unique design option that can add a sense of adventure to your treehouse. The walkway can connect different treehouses or levels, or it can lead to a lookout tower or a zip line platform.
To conclude this section, there are many plan ideas for designing a treehouse, from simple and functional to elaborate and multi-level. You can choose a design that fits your needs, budget, and available space, and add personalized touches to make it truly your own.
Overall, building an impressive treehouse requires careful planning, high-quality materials, attention to safety, and a willingness to add fun and personal touches. With these tips in mind, you'll be well on your way to building a treehouse that is both functional and impressive!
Your kids will love it!
Related Book Recommendation
Do you want a professional and practical process more than just a guideline, to build an impressive treehouse for your kids? Then you'll get the right reference to do so! Enlarge your knowledge by learning from experts how to do it right.
from site selection to design & construction
by the author DJANGO KRONER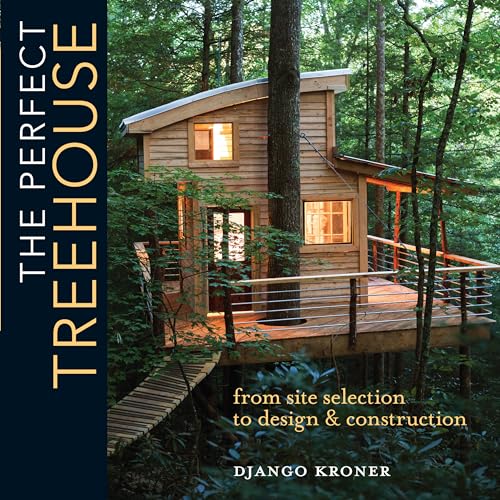 The book cover


Buy it Now!
Description of the Book (from the Book's Editor)
Treehouses speak to the little kid in each of us. Who doesn't love the idea of a fantasy house in the treetops? But building a treehouse the right way takes a lot of thought, planning, and hard work. This book is here to help you dream big yet approach your treehouse build in an achievable way. You'll learn:

Everything you need to know in order to choose a suitable location and the right materials for your build
How to choose the right tree?
Which tools do you need and how to use them?
How to build with the health of the tree in mind - which is important for treehouse safety as well as the environment

In addition to plenty of inspiration for making a home in the canopy, you'll find professional advice on materials, best practices, and tree selection. More than just an aspirational book, "The Perfect Treehouse" is your guide to making your dream treehouse a reality.
I hope that you find this post useful for your DIY project. Enjoy your work craft!
* THIS ARTICLE MIGHT CONTAIN SPONSORED OR AFFILIATE PROGRAM LINKS. WE MIGHT GET A SMALL COMMISSION ON YOUR PURCHASE AT NO EXTRA CHARGE TO YOU.